Buzz about Total 200
Keep doing whatever you're doing. Works for me!
2007, 2008, 2009, 2010
Map and Overview:
Routes
As with every year, we make some adjustments to the routes - 200 mile and 200k options. This year we've made some great changes that allow for better support and also more scenic roads.
2015 Route and Maps are now POSTED below.
The new Start/Finish location is at Canal Park (2nd and L Streets SE) near Nationals Stadium and Navy Yard Metro.
Much of the ride will follow last years route with exception to the Start/Finish location which changes the first 4 miles and we have re-routed the last 16 miles.


2015 Map Files (UPDATED 5/31/2015)
These links provide all the route and elevation profiles.
200 Mile Route
200 Kilometer Route
GPX and TCX Files should be downloaded directly from the Export function on the route links above. We can not be responsible for any technical assistance on GPS files or your GPS device. We will provide cue sheets at the start of the ride.
Cue Sheets (UPDATED 5/31/2015)
200 Mile Route (PDF)
200 Kilometer Route (PDF)


2015 Route Map Overview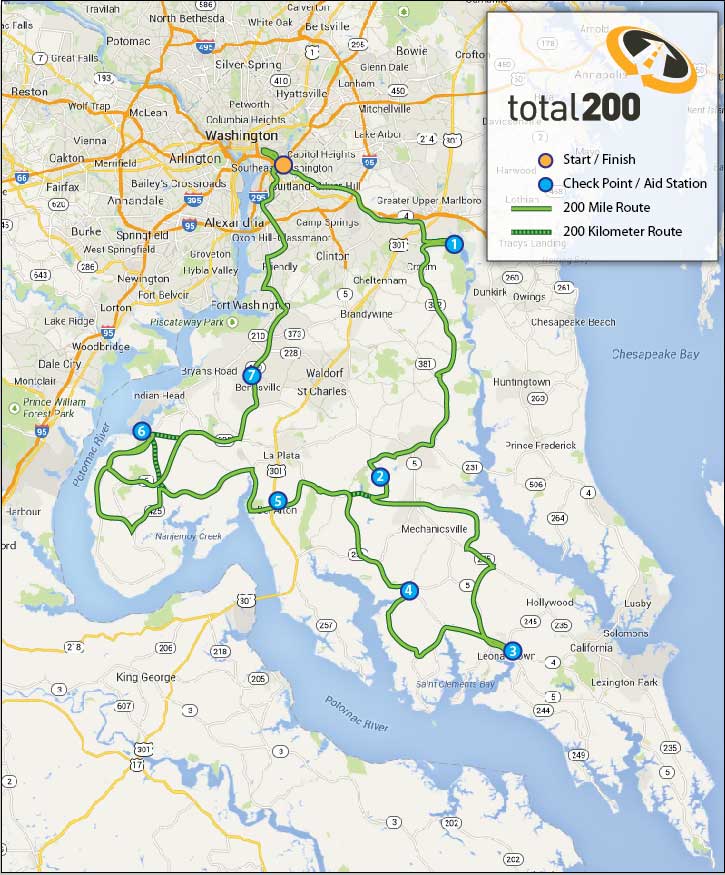 Elevation: Please view the map link above that has elevation profiles.